Do we divorce?

Friends then encouraged him to write a book on the topic. Soon after it was published someone called his office to say she was in the midst of a marital crisis and had found the book "amazing".
In the 27 years he's been practising as an attorney he's developed a sixth sense for "when a marriage is over and when not", he says. "But I'll never tell clients they should get divorced or not. People must discover their own realities and make their own decisions.
"I'm not a therapist or counsellor but if I notice people are confused I try to steer them in the right direction.
" He will, for instance, try to calm an irate client who's determined to get divorced and help the person to think clearly. "If people are stressed and worried about the future they don't have the energy to solve a problem.
Gemi (left) and Ni are equally at home in Alastair's office - and they're characters in his book.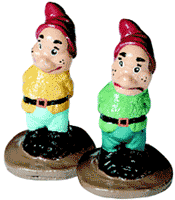 It helps to release stress when we sit down and chat and they realise it's not unusual for a marriage to be in crisis but that it's actually normal. It doesn't mean there's something wrong with them." He also encourages clients to consult a marriage counsellor or psychologist. "If they get insight into their own situation and that of their partner it reduces their anxiety. Even if they decide to go ahead with the divorce it could help them to part amicably."
A divorce may be the end of the marriage but not the relationship, especially if there are kids. "A successful divorce is where the couple still have a good relationship with each other and with their kids. Chances of achieving this improve if there is communication between the spouses during the divorce process. If it's only his attorney and her attorney talking to each other it could easily lead to misunderstandings, mistrust and anxiety." Not all marriages can be saved, especially if there's physical or emotional abuse. But if you, like the uncertain client in Alastair's book, can't decide whether to get divorced or not his advice is simple: "Think again. And trust your instincts." Then you and your lawyer needn't talk any further. * The Giant Puzzle - Finding and Fitting the Pieces in Relationship Turmoil by Alastair van Huyssteen; Stormberg Publishers 2005. R110